Launch Date: 06/23/2019
Launch Site: Boat Ramp [Google Maps]
Lake Info: [Depth Map]
We went for a late afternoon paddle on Androscoggin Lake to relax and so I could do some fishin'. First thing we noticed is there's no where next to the boat ramp to park. It's all private yacht club parking. There is a parking lot for a park just up the road which we used. I was a little uneasy because the park itself is for "town residents" only, but it doesn't say the parking is for residents only.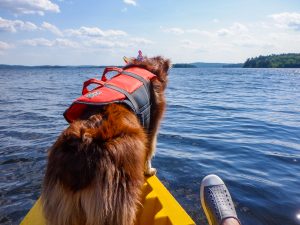 Once we got on the water, the lake is beautiful. The wind was ripping so we spent most of our time a cove for shelter. The wind kept the air cool while the sun was hot.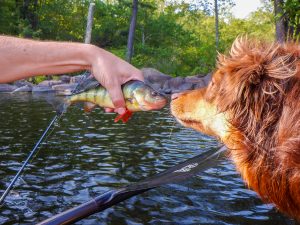 This is not a very deep lake, maxes out just under 40′ and there's a lot of 10′ or less areas. This lake seems ideal for large mouth bass. Due to the wind we didn't get to see a lot of the lake.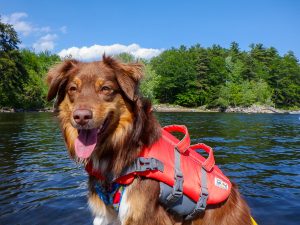 The fishing was good, we found lots of panfish which kept me entertained, and made me wish I had my fly rod. Oswin got to see fish up close for the first time. She was very curious.
All in all, this was a great trip. You can't beat enjoying the sun from a kayak on the water. Due to the limited launch opportunities and questionable legal parking, I won't be in a hurry to go back here. Luckily Maine has many other lakes to check out.