Launch Attempt Date: 7/14/18
Launch Site: Boat Ramp [Google Maps]
The state park is not friendly to the early morning kayaker. Before 9am the only way to launch is to park at the dam and walk a quarter mile down to the waters edge. Once you get there you'll have to portage over large orange bumpers which indicate to boats the dam outlet.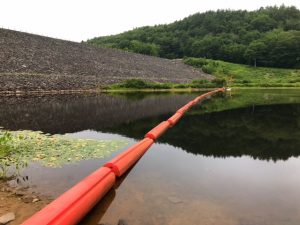 Despite being denied access due to the limited launch options at 6:30 in the morning, this lake is beautiful. Next time I'll come on a cooler day when I won't mind dragging my boat all the way back up the dam road.
This was another strike against the usefulness of a New Hampshire state park pass as an early morning kayaker.