Launch Date: 7/15/18
Launch Site: Boat Ramp [Google Maps]
Not a huge body of water by any means but this place sure is beautiful. The entire shore line is undeveloped except for the little damn and boat launch.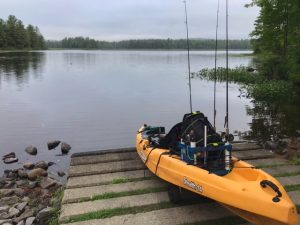 Mind the indentations on the boat launch, my kayak cart got stuck in every single one.
The main area is large and open with a relatively clean bottom. The surrounding shallow estuary is socked in with the invasive species Myriophyllum, aka Milfoil [plants that people put in their aquarium]. The water in the estuary is still 4+ feet deep but completely covered so you'd never know and as a result unfishable.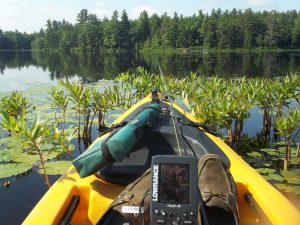 For a Sunday I was expecting anywhere I went to be busy. Luckily for me, when I arrived there was only one other boat on the water. For three hours it was just the two of us. Several different cars arrived at the launch without boats for a short period then left [I was happy to find that my car was not broken into].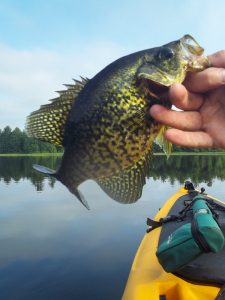 There are no official motor restrictions, so maybe I was just lucky, or due to the size of the pond, people are not racing around the pond in their bass boats. Kayaks or Jon boats are perfect here.
For fishing, I didn't catch a lot of fish. I would have had a higher fish count if I brought my 4 weight fly rod to go after the black crappie and blue gill. I did get one good sized bass which completely made up for the long hours of no action. Even on a hot day [high of 90 degrees], the big bass are looking up for an easy frog meal.
All things considering this is a place I absolutely would come back to.